Whatever else you might want to say, the invention of online gaming has made the bookmaking industry an extraordinarily competitive one. Before the internet became such an important part of all of our lives, bookies could only legally offer the wares to punters if they had a shop on the high street or, latterly, a telephone betting service. That meant that you could count on one hand the number of reputable companies that bettors could turn to and, consequently, those companies became household names. Now the new breed of bookmaker springing up since the explosion of online gambling might not be household names, but they're certainly just as reputable.
EnergyBet is a prime example of just such a company. Because I write this site and tend to do a fair bit of betting online, I make it my business to know about all of the new bookies that are hitting the market and I do my research about them. Were that not the case, however, I have to admit that I probably wouldn't have known much about them. Starting life as Energy Casino, the company only launched its sportsbook in 2016 and moved quickly to get its name out there to English sports fans. They became the official sponsor of Leyton Orient Football Club in July, following that the next month by becoming Aston Villa's official betting partner. Not bad going!
Sports Betting at EnergyBet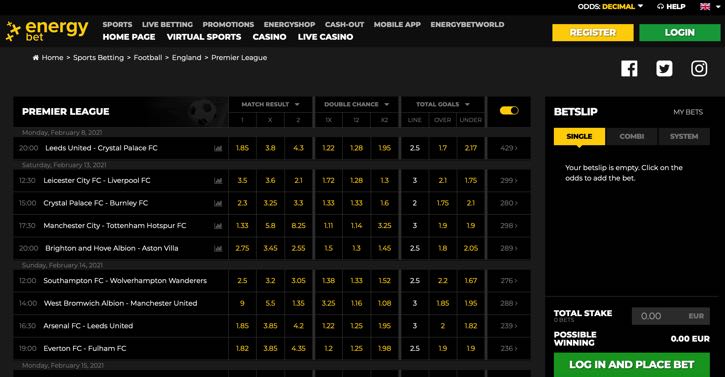 The Site
Generally speaking, I'm a fan of the EnergyBet sportsbook website. It's not quite as polished as some of the big boys, but that's to be expected. When you look at as many bookmaker websites as I do on a daily basis you tend to get a little bit bored of the formulaic layout that they all opt for. I'm therefore right on board with EnergyBet's decision to try something completely different, even if I'm not totally sure that it works all of the time. They've shunned the traditional 'list of sports down the lefthand side of the page', for example, which I like in and of itself. The problem is that it's actually a little bit tricky to find where exactly the list of sports has moved to, so you need to scan up to the top-bar before you find it.
I also like that they've avoided the usual trick of plastering adverts all over the site. There's one in a banner across the top of the main page, but other than that they are few and far between. Instead, you'll find that the centre of the sportsbook homepage is filled with a selection of the live events taking place there and then as well as the top five bets that might you want to bet on. The site doesn't respond quite as quickly as I'd like, taking time to open pages that I click on. That said, live events are accompanied with graphics that give you an indication of the way that the game or match is going. One thing I will say is that I do like the black, white and gold colour scheme. I've said it before, but the last thing you want when you're in a rush to place a bet is to be struggling to see what exactly it is that you're looking at.
Features
It's not really surprising that such a relatively young bookmaker doesn't offer punters the chance to Live Stream sporting events, though I'm actually on record as saying that that should never be a deal breaker when it comes to deciding whether or not to use a company's services. They do offer In-Play betting, of course, and that tends to go hand-in-hand with the ability to Cash Out your bet. What I like most about their In-Play betting page is that you can limit what they show you down to the specific sport that you're interested in, rather than seeing everything in the world and having to wade through loads of information.
What to Bet On
EnergyBet's list of available betting opportunities is actually surprisingly decent, with the standard options of football, tennis, cricket and rugby being supplemented by more unusual offerings, such as alpine skiing, water polo and handball. The company has also made a conscious chose to go quite big when it comes to e-sports, offering coverage of the likes of Vainglory, League of Legends and Heroes of the Storm.
Other Products
Given that EnergyBet started its life out as Energy Casino, I wasn't surprised to see that the sportsbook has a casino tied to it still. You can play the full gamut of online casino table games and poker variations, plus there's also the ability to play on some top of the range slots. If real people are more your bag then you can opt for the live casino, featuring numerous different versions of roulette, as well as table games like blackjack and baccarat.
Banking & Limits
The minimum deposit amount that you'll need pay into your account at any one time is £10, with the maximum varying depending on the method of deposit that you choose. When it comes to taking money out rather than paying it in, the least that you'll be able to withdraw from your account is £20 and the most is £5000 on a daily basis.
As for the method of deposit and withdrawal, you're unlikely to be disappointed with the options available to you. Credit and debit cards are a given nowadays, but e-wallets are also becoming more and more prevalent. The likes of EUTeller, Entropay and NETeller are all on the list, along with plenty of others.
Who Are EnergyBet?
Owned and operated by Probe Investments Limited, EnergyBet is part of Energy Casino and is based in Malta. This allows the company to have a UK Gambling Commission Licence. Energy Casino was set up in 2013, with the EnergyBet sportsbook following three years later.