New bookmakers tend to have three main choices if they want to make a name for themselves in an otherwise incredibly competitive market. The first thing that they can do is go down the 'massive advertising blitz' route, perhaps by sponsoring some well-known teams or by securing a celebrity endorsement. The second option that they have available to them is to offer such outrageous odds or welcome offers that punters can't help but sitting up and taking notice. Finally, they can choose to specialise in one area above all others and hope that they will naturally attract an audience that's interested in their niche section of the market. Options one and two run the risk of being incredibly expensive, especially if they don't pay off.
Perhaps that's why Racebets decided to open door number three and cover the world of racing, horse racing in particular, in more depth than any of the big names in the gambling world. Whilst options one and two will likely bring in large numbers of bettors if they do work, they don't necessarily guarantee any degree of loyalty from said bettors. By opting to cover one sport better than pretty much anyone else out there, however, Racebets have ensured that their customers will come back time and again. After all, if you like betting on one particular sport then it isn't it a good idea to do that with a company that knows what they're talking about? If you're the sort of person that isn't locked in to horse racing as your main sport of choice then they probably won't be for you, but if you are then you'll want to read on…
Sports Betting at Racebets
The Site
I really like the Racebets site. I'm a big fan of the company's steely determination to cover nothing but racing and to make it as simple as possible to do just that. They've opted for a colour scheme of white, black and yellow, which is nice and clean and makes everything crystal clear. If you've ever used another bookmaker for your horse racing bets then you'll know how annoying it is when you struggle to figure out where in the depths of the site the race you want to bet on has been hidden. You won't have any such problems here! On the main part of the sportsbook homepage you'll find upcoming races, highlights, the best-backed runs and other bits of information that might help you find something to bet on if you don't already have a horse in mind.
Perhaps the best part of the site, however, is over on the lefthand side of the homepage where you'd normally find another bookmaker's list of sports that they cover. There's know need for that here, so instead you get races separated by country, with an icon at the top that you can highlight to see the different kinds of racing that you can have a flutter on. These are steeplechase, flat racing, harness racing and greyhound racing. Clicking each type of race will show you what you can bet on and where it's taking place. On the righthand side of the page, you'll find your bet slip and the next race due to go off.
Features
In-Play betting is a feature that doesn't really lend itself to racing, with the action taking place too quickly for punters to to be able to make any decent money on it with a last minute flutter. Understandable, then, why Racebets wouldn't offer it. Likewise it's pretty difficult to operate a Cash Out service on a sport that can be over before you'd be able to click the necessary button, so they don't. The good news is that their Live Streaming is pretty comprehensive, offering streams of most races from around the world as long as there are no geographical restrictions in place for them to do so.
What to Bet On
Racing. I'm not trying to be flippant when I say that, that's simply the number one thing that the aptly named Racebets covers. You can bet on racing in Ireland, in Australia, in Turkey. You can have a flutter on races taking place on countless courses from across America. You can even ignore all of the current racing taking place completely and instead have a look at their excellent ante-post racing offers, covering events as far in advance as a year. If you've ever had an interest in betting on racing of any kind then you're about as well covered as it's possible to be.
Other Products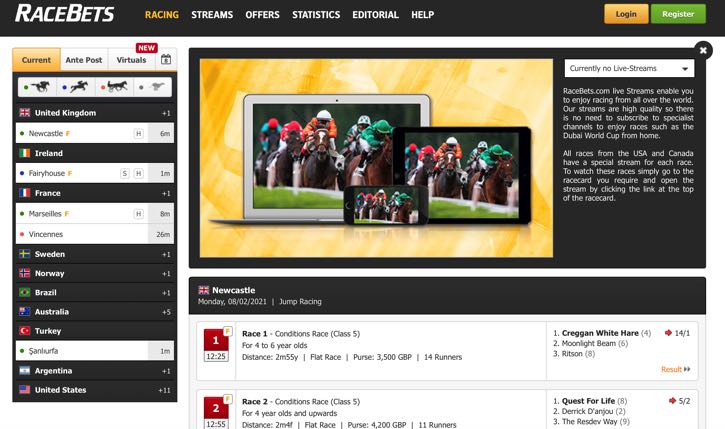 Most bookmakers that have links to casinos, slot sections or other betting paraphernalia tend to do so because they want to be considered as a one-stop shop for all of your betting needs. Racebets aren't really bothered about that. They want you to bet on racing and they've got numerous things in place to help you do that, including statistics and editorials to help you make your decisions. They simply aren't bothered by such trifling things as live casino games.
Banking & Limits
At the time of writing, Racebets offer twenty-four different deposit methods depending on your country of residence. Ones that are available pretty much everywhere, like credit and debit cards and e-wallets such as NETeller, Skrill and PayPal, are obviously high on the list. In fact, American Express is the only major one I can see that they won't take. Each method has it's own minimum and maximum deposit, though £10 is a good place to start. When it comes to withdrawals, there are reasonably strict limits in place until you've verified your account, so get that done ASAP.
Who Are Racebets?
By 2007, Racebets was the biggest bookmaker in Germany, having launched just two years before. Regulated by the Malta Gaming Authority, they've had a UK Gambling Commission Licence since 2012; that's two years after German Racing became a shareholder. If you want a more substantial declaration of the company's reliability than that then I'm afraid I can't give it to you.