First Posted: 1st November 2017 | Last Updated: 15th February 2021
Offer details correct at time of writing but may have changed since - always check the terms yourself before claiming. T&Cs apply, 18+. Please BeGambleAware.org. For help visit Gamstop.co.uk.
Please note: This promotion has expired and is no longer available
There are several reasons why we all like betting so much. For starters, there's the chance that we can make a decent amount of money with a relatively small stake, depending on what it is that we're betting on. There's also the fact that it can make a boring sport or match a little bit more exciting. After all, how many people other than their supporters would want to sit through a Stoke v West Brom match on a Tuesday night? If you're not a fan of rugby or cricket, you can make them both more exciting by placing a bet on the outcome.
Perhaps the biggest reason, though, is that it's fun. Let's be honest, having a bet on a myriad of sporting events is amusing, which accounts for not only why we do it but also why betting as an idea has been around for thousands of years across numerous civilisations. Sometimes a company comes up with a way of making things that little bit more fun, of making the very act of betting contribute to something greater. That's what NetBet have done with the introduction of the NetBet challenge; part betting endurance test, part chance to win something other than money.
What Is the NetBetCup?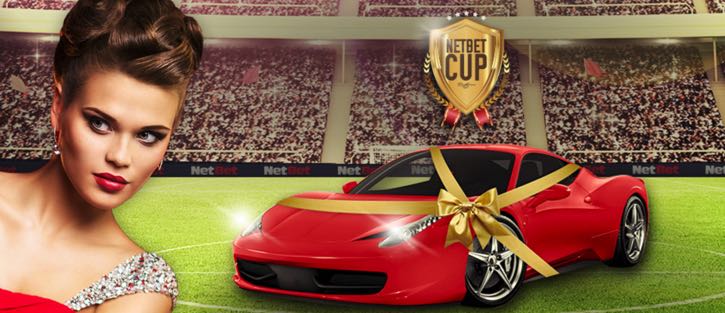 The NetBet Cup is, in essence, a last man standing-style competition, wherein the players have to place a bet on a sportsbook event every single day until only one player remains. Once all but one punter has failed to place a bet each day, the last remaining person will win a Ferrari sports car.
In its simplest form, that's it. Enter the competition, place a bet, keep placing bets and be the last person to still be doing so at the end of it all and you'll win a car. Obviously you'll also get to keep any winnings that you've picked up along the way, so if you go exclusively for bets with long odds then you might just find that you're not only the owner of a Ferrari at the end of it all but also quite well off.
How Much Do You Need to Bet?
There is nothing in the terms and conditions of the offer to suggest that you need to place a minimum bet other than the company's current minimum staking level. There's also nothing in there about minimum odds of the bets that you do place. If you wanted to, therefore, you could easily place the minimum possible bet on events with odds clearly in the favour of your bet winning, thereby stopping yourself from spending a fortune to win the competition.
As always, though, things aren't quite that simple. The terms and conditions do state that, "In the event that several players are in the same winning level, the winner will be the one who bet the highest overall amount during the promotion". Given it's a last man standing competition, you might well ask how several players can be on the same winning level. The answer is that there will be a cut-off date, it's just that it's not known yet.
To clarify then, there's no minimum amount you need to bet but there can be only one winner, so if there's more than one person still standing when NetBet decides to end the competition then the one that has spent the most in bets will win the Ferrari.
What Else Do You Need to Know?
The competition gets underway on the 3rd of December 2017, so you need to make sure that you've placed a real money bet on a sportsbook even before then to qualify. If you fail to place a bet between 00:00 and 23:59 on even one day, you'll be eliminated.
Something else worth bearing in mind is that it's down to the punter to make sure the bet placed is a valid one. After placing the bet you'll need to head to the Bet History section of your account to make sure that it counts. Given NetBet are being decidedly vague about what counts and what doesn't, you might be best off finding a bet that counts and then sticking with it.
Is It Worth It?
If I'm honest, I'm not entirely sure that NetBet have thought this competition through properly. The information within the terms and conditions is definitely found wanting, even to the point that the company doesn't specify what type of Ferrari it is that you could win. Nevertheless, brand new Ferraris cost in the region of £200,000 to buy, which is obviously an amount that not all of us can afford.
What I would say, therefore, is that this competition isn't necessarily one that you should jump into if you don't tend to bet regularly in the hopes of winning a car. If, however, you're the sort of person that places at least one bet every day and you're not bothered who you place that bet with, then switching to NetBet for at least one wager a day won't cause you major problems. For me, this offer is best for creatures of habit that will remember they need to place a daily bet. You don't want to get a few months in and then realise you've forgotten!